Most business are looking for ways to work more efficiently.  Especially, in our current environment, the need to work from outside our normal office is very important.  With some planning, having secure access to your work environment is a reality.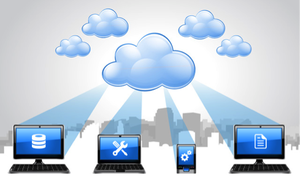 It's pretty easy to setup mobile access to your email and shared files using Office 365 and One Drive or Drop Box or some prefer G Suite.  Most of these services can be accessed via a web browser.  
However, "thick" software applications like Quickbooks, Peach Tree, CCH Engagement, Adobe Acrobat, Adobe In-design, etc. need to be installed with instant access to the corresponding files or databases to run efficiently.  This normally calls for traditional servers and workstation to be installed in and office environment which entails hardware, software, licensing costs that are often unexpected.
The standard answer is to use a VPN connection to connect remotely to centrally stored files and databases.  This work well for some situations.  But running applications like Quickbooks over a VPN is slow and can cause data corruption.  Accessing large database file or graphics files over a VPN connection is often frustratingly slow.  There has to be a better way right?
Virtual desktops (VDI) and virtual servers delivered via a trusted cloud provider present some exciting answers to some challenges.  For many reasons, Virtual desktop infrastructure (VDI) has traditionally been served from on-premises servers, and only been available only to large enterprise clients (250 users or larger) due to cost of hardware and software required to deliver the services.  This technology has matured, and we are able to deliver this technology to large and small clients alike.
Cloud + VDI
= The
B
est of 
B
oth 
W
orlds
You're probably familiar with the business benefits of cloud services:  
I

mproved business agility

 

A

nytime/anywhere secure access

to entire "work" environment

Zero capital expenditure (Capex) 

on IT infrastructure

 

E

nterprise-grade security (if run on a reputable cloud platform)

 
Virtual desktop (VDI) solutions extend these qualities. Virtual (VDI) desktops run on almost any device -- PC, Mac, IOS, Android, Thin-Client, etc.  VDI can help businesses realize huge operational expenditure (Opex) savings through much lower endpoint administrative and maintenance costs. VDI also centralizes the administration of desktops, applications, and data, it makes it easier for admins to secure those digital assets. 
Cloud based Virtual desktop (VDI) and cloud servers mean: 
Greater accessibility

.

Business

D

esktops can be accessed anywhere in the world, from any device. 

Increased savings

. Y

ou get savings in both 

Capex and 

Opex

.

Stronger security

. A

pplications, desktops, and data are all kept in a central location

,

 with stringent security policies and enterprise-grade security solutions

.

 
VDI-based desktops are ideal for staff that need full desktop experiences while doing remote work. People that work in various industries—including oil/gas, engineering, film, energy, medical, and automotive—who need to use applications even when away from their physical desktops are better served by VDI desktops than traditional Shared RDS solutions.
We started delivering cost effective virtual desktops and virtual servers to our clients over five years ago when VDI was out of reach for most businesses.  Now is the time to take a serious look at cloud services how you can make your data is always accessible.